Brand new Lancashire pathway dedicated in memory of local horse rider
An equestrian group affiliated to The British Horse Society dedicated a newly opened 870m route in Leyland, to local rider Lorraine Wood, who passed away from cancer 18 months ago.
The Ulnes Walton Bridleways Association (UWBA) officially opened the newly created Lorraine Wood Loop which can now be enjoyed by riders, walkers and cyclists.
The work required on the route totalled £59,000 and was funded by the BHS, UWBA, Lancashire Enterprise Fund, Lancashire County Council, Howard & Alice Bridges and The National Lottery Fund, as well as the South Ribble Borough Council
Lorraine's daughter Lisa and grandchildren were at the official opening yesterday (18.08.16), with grandson Jack cutting the ribbon.
Lisa said: "It's a real honour for the route to be named after mum, she really enjoyed horse riding and as she had stables close to here (she) would ride around the roads so it's great to see safe off-road routes riders can now use".
Mark Weston, Director of Access and Rights of Way for The BHS, said: "It is amazing what can be achieved when funding parties come together. The Society is delighted to contribute to the funding to ensure the Lorraine Wood Loop is created."
"We always strive to increase safe off-road routes, and it's thanks to our volunteers and affiliated groups, like Ulnes Walton Bridleways Association, that we're able to continue the work we do. We are grateful to everyone one who has worked and contributed to ensuring completion of this project."
Dr Sue Taylor-Green, Chair of UWBA said: "We are extremely proud to have been able to create this new multi user path which contributes significantly to the enjoyment of all park users.
We would like to thank all of the grant funders and South Ribble Borough Council who helped us make this possible."
It is estimated that 20,000 rights of way in England and Wales will be extinguished from the maps if they are not recorded by 2026. Government legislation (Countryside and Rights of Way Act 2000) states that pre-1949 routes must be recorded on a council's Definitive Map or they will be erased.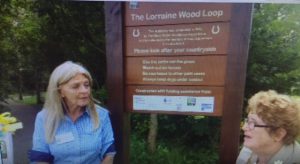 Please note our planned local rides for this year, any other events will be posted on our Facebook page, should you be looking for some more Lancashire rides please go to:-http://www.lancs-egb.org.uk/
Please go to:- http://www.lep.co.uk/news/100k-lottery-funding-boost-to-central-lancashire-clubs-1-7281885 to read about our lottery funding.